Expiring Badges - Tempbadge - COVID-19 Response Products
COVID-19 Emergency Response Products:
COVID-19 Response Products
or visit
https://tinyurl.com/wme4wca
Call for information 877-369-7033
Tempbadge - Expiring badges for visitor management - temporary ID cards for contracted workers


Security Imaging carries the full line of TEMPbadge products, please call us at 1-877-369-7033 and we can help you find the product you need. TEMPbadge products are not available to purchase online because most of the items require more than one item be purchased, because of this we would like to talk to you to help you find the best solution for your company.

Tempbadge id badges are time expiring badges that expire in 4 different time frames - 1/2 day, 1 day, 1 week and 1 month. These expiring badges are designed to help identify visitors, contractors and temporary workers.

Everyone that enters your building should wear an Identification badge. Permanent employees are usually issued access control badges or hard PVC badges, but what happens when visitors come to your location?

Tempbadge id products are a great solution! The time expiring badges are low costs and easy to issue.





Download our Tempbadge Catalog to view part#ís and photos of some of the products available. If you have any questions please call us and we can help you find the best solution for your needs. Tempbadge products are not available for purchase online because the complicity of the product itself. Our staff will be happy to take your order and will also be able to further explain how to use the product at time of purchase.

Tempbadge products are great for visitor management.

Manually Issued TIMEbadge Expiring Badges
- No hardware or Software needed
- Excellent for low to moderate visitor traffic
- Available in 4 Expiration time frames: (Half-Day, One-Day, One-Week, One-Month)


Thermal-Printable TIMEbadge Expiring Badge
- Badges print from any direct thermal printer
- Use wtih current visitor software system
- Customize your own layout with text, logo or graphics
- Available in One-Day or One-Week Expiration

Inkjet or Laser-Printed TIMEjet Expiring Badges
- Badges print from any inkjet or laser printer
- Quick and easy to use, print quality color or black and white
- Badges come 2up per sheet
- Available in One Day Expiration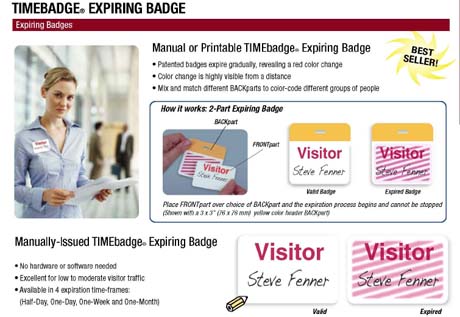 Each TIMEbadge consists of a specially coated white adhesive FRONTpart and a BACKpart that is pre-printed with time-release ink. Once the FRONTpart is applied to the BACKpart, the TIMEbadge is activated. The result is a gradual color change that signals expiration when completed.

The Expiration Process

Depending on the expiration period you choose, the TIMEbadge will remain white for the majority of that time before the color change begins. For example, a One-Day Expiring TIMEbadge issued in the morning will reveal light pink bars by late afternoon, and darker pink bars within 1 day, signaling an unmistakable visual expiration.
The Expiring TIMEbadge is not affected by light, so the expiration process works indoors and outdoors, day or night.

Expiration Time Frames

* Half-Day (4 Hours)
* One-Day (18 Hours)
* One-Week (7 Days)
* One-Month (30 Days)

TIMEbadges are Tamper Resistant

Once a TIMEbadge is activated, the expiration process cannot be reversed. It is impossible to separate the FRONTpart from the BACKpart without visibly damaging the badge. The adhesive FRONTpart is made of a specially coated material that looks like paper, but is tear-resistant and durable. Even if an attempt is made to separate the two parts, the TIMEbadge will continue to change color.

Why use an Expiring TIMEbadge?

* Provides an easy-to-see color change to indicate expiration
* Lets you know if a visitor is authorized to be on your premises
* Eliminates the risk of unauthorized badge reuse
* Eliminates the need to collect used badges
* Gives you the security that no ordinary badge offers.

TEMPbadge ID Products - Any other badge is just a label!

There are no products in this category. Please check back later.